Your offer in minutes, SOLD in days
You Get Market Value less Our Fee, On the day you choose.
How it Works:
Simple. Certain. Easy
You choose the moving day and Sweetly will buy your home at current value, less our fee. Our offer is only conditional to a property inspection which we arrange - at our cost. Once completed, you'll have a firm commitment for the sale price and the moving day that you choose.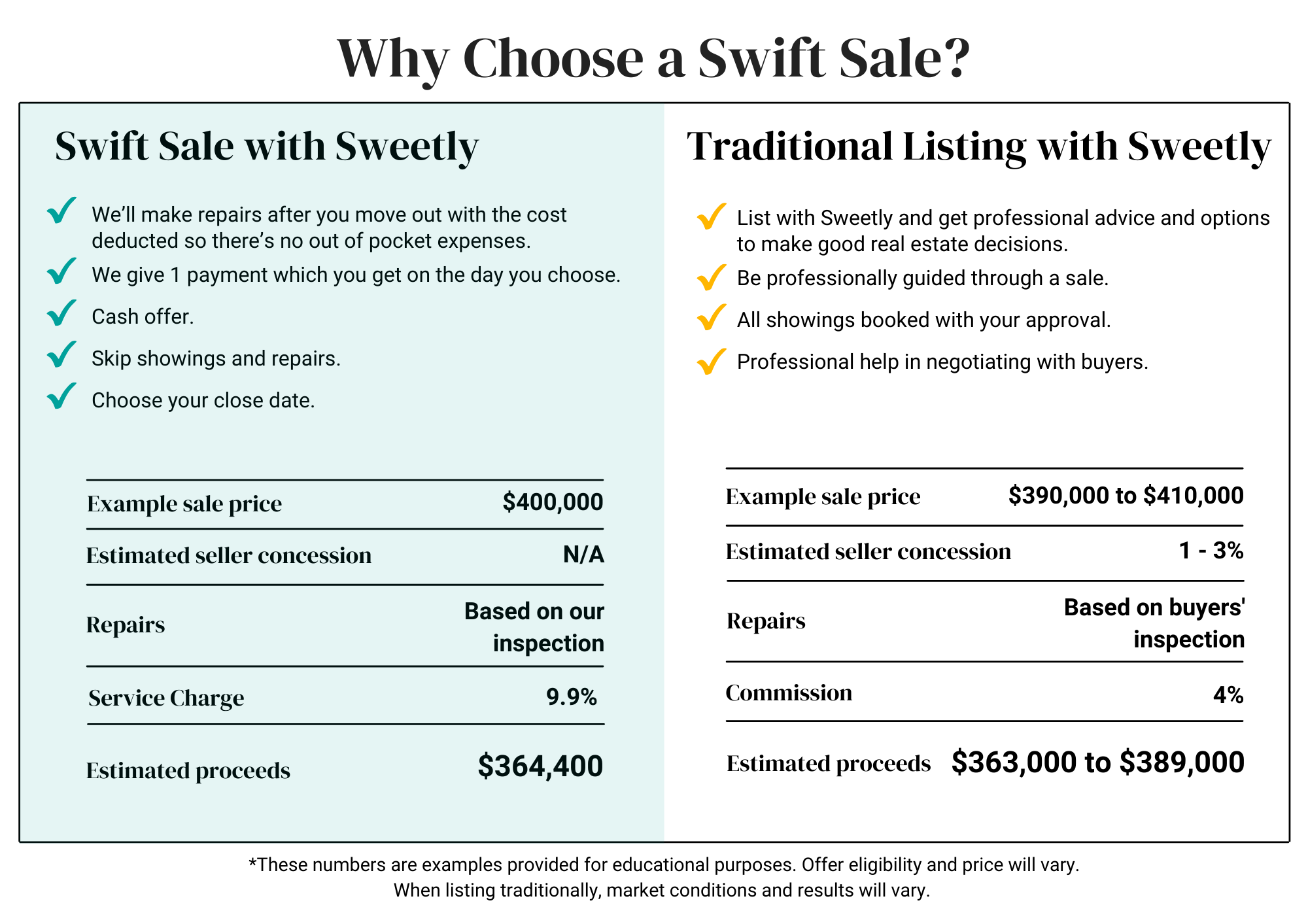 Certainty
With a Swift Sale, we buy your home at market value, less our fee.
Make compelling offers on your next home knowing your current home is SOLD!
You'll have a firm price and fixed closing day (that you choose) within days
Skip ALL Public Showings
When you sell your home to Sweetly, you can skip all the hassles of being for sale.
There's no need for you to list your home for sale or keep your home in "show ready" condition.
The price we pay is net to you - no hidden fees or commissions apply.
Choose your own moving day
Select the moving day that works best for you, aligned with whatever is next.
Changes to your moving day are no charge and hassle-free.
No need to negotiate the sale price or the closing day - like a traditional listing/selling process.
Consider any other offers
At your option, we'll list your home for sale until your possession day arrives. If you get a better offer from any other buyer, you can take it!
There's no cost to accept a better offer - only our traditional REALTOR® commission will apply.
Swift Sale Questions and Answers
Sweetly is a Canadian iBuyer. We are a full-service, licensed real estate brokerage that uses our money to make your move easier. Sweetly is the only Canadian real estate brokerage that literally buys your home so that you don't need to be 'for sale'. We offer several options including the new Swift Sale where we'll pay 90.1% of current market value on whatever day you choose; Our Sweet Sale pays you in two payments - we pay 75% on your chosen moving day, we'll make the right improvements to maximize the resale price, then pay you the full balance of our selling price less our fee. We also offer a Sweet Swap where you can trade your current home for your next one, and an Equity Advance if you just want some of the cash from the home equity you've built up - you pay us back when the home sells.
Why would I consider a Swift Sale?
With a Swift Sale, you receive 1 payment for 90.1% of the property value on the day you choose. Skip all the showings and hassles of being for sale. Your payment is free of commissions, and there are no hidden fees.
What's the cost of a Swift Sale?
Our Swift Sale fee is 9.9% of your property value. We'll pay 90.1% in one lump payment on whatever day you choose.
There's really no catch! The risk is ours. We'll offer to buy your home and re-sell it on the open market after you've moved out. You pick the day! We'll pay 90.1% of the current market value. The difference is the convenience of no public showings.
Is the Swift Sale Program available to me if I'm already listed with another REALTOR®?
Yes, you can consider our offer through your current listing brokerage. Any commissions payable under a current listing agreement should be considered.
Who controls the asking/sale price once Sweetly puts the house for sale?
With a Swift Sale, we control the asking/selling price right from the start. Sweetly will prepare the property for sale and list it at a price we feel will attract a serious, qualified buyer.
What happens if you can't sell the property for more than you paid?
That's our risk. We don't win on every deal we do, and that's just a part of our business model.
What happens if you resell the property for way more than you expected?
Sometimes a sale can be competitive between 2 or more different buyers and the resulting sale price will exceed the asking price. So, if we resell the property for anything more than our evaluation price, You'll get 100% of that overage.
Can Sweetly help me buy my next home before I sell my current home?
Yes, Sweetly is a full-service brokerage. We'd be happy to activate a free homes search based on your buying criteria. We'll show you any home for sale and when you find the right one we'll help you make an informed offer by showing you what the home last sold for (if available) and the recent comparable sales for the area to help you make good real estate decisions. Once you have a firm purchase Sweetly will buy your current home on the date that makes the most sense for you!
How fast will I receive my offer?
You'll have our written offer on the same day we see the property
Do I get to choose my own closing date?
Yes, you get to choose a date that works for you which is materially different than selling your home to a traditional buyer that may need the home on a date that works for them.
Is the offer I get subject to commissions?
No. You don't pay commissions when you sell to us. We make our money from the service fee we charge against the resale which includes commission. IF YOUR HOME IS LISTED WITH ANY OTHER BROKERAGE you can still get our offer, but only through your current brokerage.
How do the improvements I made affect the value of my home?
Improvements, additions and renovations are important factors for us to consider when determining the current value of your home as compared to others for sale or sold. Please tell us about them and include as many pictures as possible.
Where are you currently buying homes?
We are currently buying homes in Edmonton, Red Deer, Calgary, and other major centers in Alberta.
What types of homes are you buying?
We're currently interested in buying single-family homes of 850 square feet or more, with 2 or more bedrooms above grade. The homes we buy must have a value of $200,000 and up. Some exceptions can be made and all deals are carefully considered.
What types of homes will you absolutely NOT buy?
Homes we buy must be vacant on possession date. We cannot assume any tenancies. We can't buy any homes that require significant work such as foundation problems, etc.. We also cannot buy a mobile home or another type of property that doesn't include title to land or a city lot. At this time we are not buying most condominiums, or commercial property, and some smaller communities throughout Alberta.
Is this a Guaranteed Sale program?
NO! A Guaranteed Sale is a gimmick some agents use to get your listing. Sweetly provides a clean offer and an actual sale - NO LISTING required. Guaranteed Sale programs require you to list the home for a period of time, then if the brokerage buys the home and resells it for more they keep the profit. That's not Sweetly.
Should I include photos of my home?
YES! We consider every home carefully and photos help us understand the condition and unique appeal of your home. Send photos!
Our offer is valid for however long you want, but stale-dated offers will be re-visited to ensure we are paying current value, and where the market has shifted substantially, we may just withdraw a stale offer.
How long will the selling process take?
We can move as fast as you need us to. Typically we need about 10 days to do our inspection of the home and finalize our commitment to you. We can move faster if necessary. You'll get your first payment on the possession date you choose.
What happens to my house after you buy it?
We'll do any improvements needed (which you agree to in advance) to ensure the home shows its best and sells for maximum value. We take photos and measurements, introduce the home to the buying public, post the home on the MLS®, hold open houses, book showings, deal with agents, buyers, inspectors and appraisers. We negotiate with buyers and re-sell the home on the open market. Basically, we do all the work, pay for all the holding costs and handle all the stress associated with selling a house.
Is my information secure?
Yes, we don't discuss or disclose your reasons for moving, nor will we disclose your home selling price until after a firm (unconditional) commitment is received. We may share your contact information with other top agents in your community to reassure you that our offer is at current market value. You're under no obligation to anyone and you may proceed with your sale as you see fit.
How do you determine the price you'll pay?
Our offer is based on the expected market value. We determine the current value of your home by direct comparison to other recent sales in your area, or we can use a recent appraisal if you have one.
How does my offer compare to actual market value?
Our offer is based on the Current Market Value of your home!
Do you negotiate on your offer price?
Yes, If you feel like we've missed something about your home that makes it worth more than our offer price please bring that to our attention, we'd be happy to revisit our offer.
Can I change the possession date after we sign?
Yes, it doesn't matter to us when we close so if you need more time just let us know and we can make that change.
Will you want to see my house in person?
Yes. We'll want to see your property in order to make you an offer.
Who does the inspection on my home?
We use certified home inspectors.
What happens if the inspector finds problems in my home?
Don't worry. We are not a nervous buyer. Home inspections most often (actually always) yield some kind of deficiency or maintenance requirement. Once we know what those are we'll review them with you and discuss possible remedies if needed. If there's something seriously wrong with your home (like a faulty foundation) we'll likely need to pass on buying your home as we simply don't have the resources to deal with substantial issues of that sort.
When will I need to move out of my house?
You'll need to provide clean, vacant possession on the closing day of your choosing.
Can I take any appliances?
Yes, but please note that all of the appliances (Chattels) listed on the contract need to stay with the home. These will normally include the Fridge, Stove, Hood fan, Washer and Dryer, Window coverings, Garage door opener and remotes, built-in speaker systems, closet organizers, etc. If any of these items are important for you to take with you, you'll need to ensure they are not included in the sale.
What if I have more questions?
Call us! Our number is 780-477-9338.